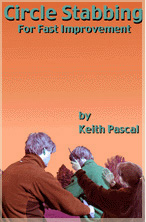 What a great and fun way to learn to react faster!
It's almost like a game that teaches you hand-eye coordination, and the art of reacting to stabs from a variety of directions.
This exercise was adapted from an empty-hand exercise developed by an original Bruce Lee student.
Receive Circle Stabbing for Fast Improvement -- Free when you order the 10 Days to Better Knife Fighting epackage.
Read more about 10 Days to Better Knife Fighting and all the other knife ebooks included ...
Buy 10 Days to Better Knife Fighting here
---
Note: If you still want to order Circle Stabbing ($8.95) without any other ebooks, email me. I'll point you to a link.

---
Pay by check or money order (U.S. funds, only):
Send to: Kerwin Benson Publishing
2749 Friendly St., Suite 442
Eugene, OR 97405
U.S.A.