Read about our featured book:
10 Days to Better Knife Fighting
This is the best drill and exercise ebook for improving your knife fighting skills.
Imagine -- a 10-Day Course packed with unique knife-fighting drills -- exercises that guarantee you'll react with automatic, efficient knife response.
You'll learn at a faster rate than the most expensive courses available, at only a fraction of the price. Read more...
---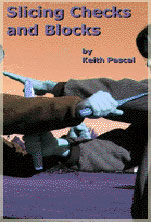 Read about the ebooklet:
Slicing Checks and Blocks
Order:
Slicing Checks and Blocks.
Sometimes it only takes a change in perspective to improve one's knife fighting effectiveness.
This ebooklet will change your point of view, and in so doing will increase your effiency and speed in knfe response.